News
Philips' MotoVision is Made for Powersports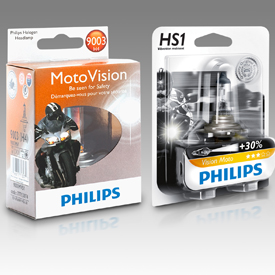 Lumileds, a subsidiary of Royal Philips, now offers a line of advanced headlight bulbs for motorcycles, scooters, and powersports vehicles. Philips MotoVision and Vision Moto are breakthroughs in lighting safety for all types of two-wheeled motor vehicles as well as Quads, ATVs, and four-wheelers, according to the company.
Philips Vision Moto HS1 and S2 headlight bulbs are designed for scooters and powersports. They are engineered to produce up to 30-percent more light than standard bulbs. This increased light output helps to illuminate more of the roadway for the rider and can help ensure superior nighttime visibility. More light at night is especially beneficial in powersports applications where riders may be riding on dark, unfamiliar roads and trails
Philips MotoVision delivers greater nighttime visibility and safety, allowing cyclists to see and be seen better, according to the company. The bulbs are available for 9003/H4 and H7 applications. They are designed to put up to 40-percent more light on the road and deliver a beam that's up to 50 ft. longer than traditional halogen bulbs, so riders can see clearly and can be seen easily by other motorists.
Philips MotoVision also creates a distinctive orange reflection in the headlight that helps motorcycles and scooters stand out from other road traffic.
For more information, call 1-800-257-6054 or visit www.philips.com/automotive.