News
New TV Show Puts Dana-Equipped Jeep Wranglers to the Test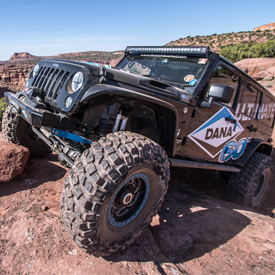 A new History Channel show called It's How You Get There will feature two Dana-owned Jeep Wranglers equipped with Dana axles attacking some of the most difficult off-road trails around Moab, Utah. The show, hosted by Greg White and Julian Taylor, features challenging and unusual modes of transportation on land, sea, and air.
The fourth episode from the first season of It's How You Get There featuring Dana's Jeep Wranglers is scheduled to air Oct. 1. The episode begins with the hosts meeting with Jeep enthusiast Jenn Barlow, who introduces them to their rides for their two-day adventure: Stage 2 Jeep Wrangler Rubicons equipped with Dana 44 axles, both front and rear. On day one of the trip, the team goes to the Top of the World, a popular trail that ends at the Waring Mesa with a spectacular view of Fisher Valley, Onion Creek, and the La Sal Mountains. Guiding the trip is Seth Metzger, vice president of light vehicle driveline engineering for Dana, who shows them the proper techniques for getting to the top.
Day two of the ride proves to be more challenging, as the team attempts to take Steel Bender Trail, a difficult, 17.6-mile route that begins and ends in Mill Creek Canyon.  Helping them on this course is Randall Speir, senior account manager of motorsports for Dana, who brings a Jeep Wrangler JK equipped with Ultimate Dana 60 axles that have a 4.88 gear ratio. This enhanced Jeep also has 1-ton brakes, a 4-inch lift kit with 40-inch tires, and 17-by-9-inch beadlock wheels.
The capabilities of this Jeep Wrangler are put to the test when Julian gets his Jeep Rubicon stuck and Dana's Jeep Wrangler that is equipment with the Ultimate Dana 60 axles comes to his rescue, pulling him out of a rut.