News
New-Look Champion Packaging Reflects Storied Past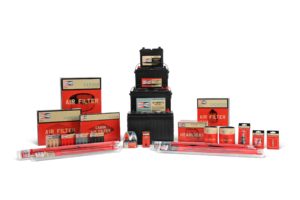 Federal-Mogul Motorparts has expanded Champion's brand product family and added bold, new packaging. The expanded Champion product line was recently introduced in major Southern California markets as part of a national campaign. The all-new Champion product range includes easy-to-install wipers, lighting, filters, plugs and batteries.
In addition to expanding the Champion product line, Federal-Mogul Motorparts designed Champion's packaging "to place the heart of the brand figuratively and literally on its sleeve," according to the company. The new packaging, created in partnership with INNOCEAN Worldwide, is a modern representation of Champion's heritage-achieved in part thanks to a Los Angeles-based artist. Chris "Coop" Cooper, a renowned 1950s style hot rod artist and his own Kustom Kulture aesthetic, designed the bold new packaging to build a bridge between the brand's past and present.
"This is a rebirth of an American icon. To prove that, the packaging had to be retro and progressive, while at the same time stand out from everything else in the sea of parts packaging," added Eric Springer, chief creative officer for INNOCEAN.
The authenticity of the Champion brand and its new look recently earned several accolades, including a local Gold ADDY award from the American Advertising Federation (AAF) of Orange County, California; a regional Silver ADDY award from the AAF; and three Bronze ANDY awards from the Advertising Club of New York.
"We are thrilled with the market's reception to the new Champion, which is one of the automotive industry's most recognized and trusted brands," said Laura Soave, senior vice president and chief marketing and communications officer for Federal-Mogul Motorparts. "The Champion bow tie remains a mark of excellence for technicians, racers and consumers worldwide. As we modernized the look for the Champion brand, we wanted to retain its authenticity and strong heritage. Coop's hand drawn illustrations on our packaging do just that while unifying the Champion brand across all of our product categories."
Federal-Mogul Motorparts is in the process of extending the Champion brand's reach through a nationwide product rollout. The brand also is preparing to launch an exciting new online gear store that enables Champion/motorsports enthusiasts to further connect with one of the most iconic brands in the automotive aftermarket.
For more information, visit www.championautoparts.com.