News
New Light Kit Shines from Raptor's Grille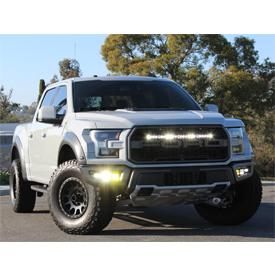 Owners of the 2017 Ford Raptor pickup truck can take their vehicle's stock lighting to the next level with several new LED lighting kits from Baja Designs, according to the company.
The company's auxiliary LED lights and light bars fit the Raptor exactly and provide illumination that cuts through the fog and darkness to extend off-roading adventures long after the sun goes down, according to the company
The new Baja Designs kits include:
S8 Grille LED Light Bar Kit-Thirty-inch light bar tucks behind the grille and plugs directly into the factory up-fitter switches. The amber backlight feature can be easily spliced into the factory amber DRLs on the Raptor
OnX6 Hi-Power Lower Grille LED Kit-This smaller, 10-inch light bar option uses six LEDs focused on different distances. The light bar projects 11,650 lumens into the deepest darkness to make following difficult trails a fun adventure. Installation is easy with minimal modifications required, according to the company. The provided harness allows for tapping into the factory up-fitter switches
S2 Reverse Light Kit-Generates extensive lighting coverage and clear brightness from an ultra-compact, lightweight package. Contained in a 3-by-2-inch housing, the S2 Reverse Light Kit adds visibility for backup driving, or can be used as an amber dust light on the trail. With very low amperage draw and 1,130 (Sport) lumens or 2,450 (Pro) lumens of brightness, the S2 minimizes electrical drain while extending excellent brightness in a versatile back-up light design.
Other popular auxiliary lighting options for the 2017 Ford Raptor are the Sportsmen, Pro and Unlimited Fog Pocket Kits that utilize various model combinations of four Squadron Series lights and two S2 Series lights to cut through the toughest fog for added clarity at the bumper level, according to Baja Designs.
Click for more information.