News
New Dodge Demon to Appear at Carlisle Chrysler Nationals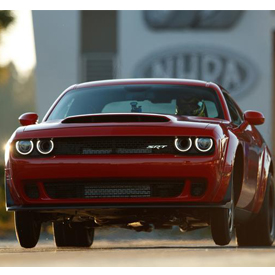 In a warehouse in New York City in mid-April the hype became reality for Dodge and its passionate enthusiasts with the unveiling of the 840-horsepower Dodge Demon. With support from mega-star Vin Diesel and a more than 60-minute unveiling presentation on the stage, Dodge ushered in the next wave of street legal muscle.
The Demon will now make its way to the 2017 Carlisle Chrysler Nationals, set for July 14-16 at the Carlisle PA Fairgrounds. The car has yet to hit dealership showrooms.
Dodge worked diligently to not only produce this car, but to market it as well and the stories behind that and all that went into building the Demon will be told at Carlisle during event weekend., according to organizers. Most of the weekend, the Demon will be positioned on the midway within the Dodge booth, but select times throughout the weekend it will roar from its parking spot to an area in front of the stage where automotive enthusiast and TV host Steve Magnante will talk about it; bumper to bumper.
Carlisle Chrysler Nationals packs nearly 3,000 cars into the facility and hosts 50,000-plus guests from around the world.
"Our displays for 2017 include features dedicated to the GTX, Dodge Trucks, RO23 and WO23 run of cars, the R/T and an FM3 display, better known as Panther Pink," according to Carlisle Chrysler Nationals organizers.
Fore more information, visit www.CarlisleEvents.com or call 717-243-7855.