News
New Brand Emerges in ADAS Category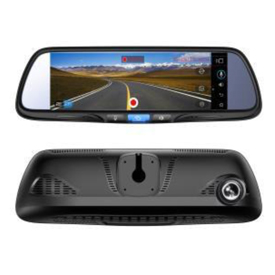 A new force in the emerging Advanced Driver Assistance Systems (ADAS) market category launched on June 1. The brand, called DriveAssist, is a newly created division of Cybcar America, which offers vehicle-specific integration solutions.
DriveAssist will operate as a separate entity within the Cybcar corporate structure and offer a diverse portfolio of advanced vehicle solutions including power liftgate kits, blind spot detection systems, OEM fit DVR systems, a multi-function 8-inch mirror featuring iGO mapping software, bluetooth and rear camera input. Also offered will be an assortment of special application cameras and monitors.
Driving the business development efforts for will be industry veteran Bob Goodman. Goodman has been an active ambassador in the emerging driver awareness and vehicle safety category, including serving sales management positions with category leaders, such as Rostra Precision Controls and Rydeen Mobile Electronics.
"We are excited to have a sales & marketing professional of Bob's caliber join our team," said Benjimin Ng, vice president of Cybcar America. "His 30 plus years' experience as a senior manager in our industry will prove to be invaluable in launching our new brand, DriveAssist. Our Cybcar business has reached a critical mass that demands more diversity in products and an increase in our infrastructure to satisfy our existing and future customers, Bob, heading up DriveAssist will chart our direction and insure our customers' expectations are not only met but exceeded.
DriveAssist will expand on Cybcar's current portfolio of OEM quality ADAS products while focusing on the expeditor and 12-volt specialists channel.
"Cybcar, under the direction of Benjimin Ng has established itself with 12-volt specialists and expeditors as the leading supplier of OEM integration solutions for the automotive aftermarket," said Goodman, who will serve as vice president of sales and marketing for DriveAssist. "DriveAssist will share a few of the innovative products existing under the Cybcar brand but DriveAssist's primary focus will be on introducing new ADAS solutions for the top tier of 12-volt specialists and expeditors. The lineup will feature a category I'm very excited about, Power Liftgate kits, including applications for dozens of vehicles.
"Additionally, we will have wireless solutions that are actually integrated into the components and not merely add-ons to existing products."
DriveAssist is currently selecting manufacturers' representatives and 12-volt retailers.
"I'm confident 2017 is the tipping point in the ADAS category, and DriveAssist will supply products unavailable elsewhere," Goodman said.
DriveAssist has secured booth space at the 2017 SEMA Show, set for Oct. 31 to Nov. 3.