News
New Brake Controllers Get Top Billing from CURT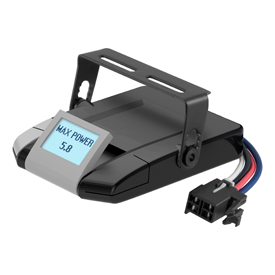 CURT will be showcasing two new brake controls at the Oct. 31-Nov. 3 SEMA Show in Las Vegas. The company can be found in booth No. 34017 in the Upper South hall of the Las Vegas Convention Center.
The Spectrum is an in-dash brake control unit offered by CURT to achieve "an unprecedented OE look and feel," while the Assure features a high-quality OLED display screen, according to the company.
The new Spectrum brake control features a dynamic user interface and a separate main module. The interface is a simple rotary knob with an integrated push-button and 10 tri-color LEDs. It mounts on the dash of the vehicle for a clean, unobtrusive, OE look, according to CURT. The single knob allows the driver to control and monitor all trailer brake activity. The separate main module of the Spectrum mounts behind the dash, out of sight.
The new Assure brake control features a professional-grade interface and has a unique manual override feature. It has a 128×64 dot matrix OLED display screen that shows trailer brake activity in a full message readout for enhanced usability. The display can also be flipped up at multiple angles for the best possible view. The manual override of the Assure brake control allows power to be applied any time and in any amount, giving the driver more control on the road, according to CURT.
Both the Spectrum and Assure operate with a triple-axis accelerometer, providing highly responsive, smooth stops on any grade. They also install easily with any of our vehicle-specific quick plug harnesses.