News
Moving into New Building a Huge Undertaking for Dart Machinery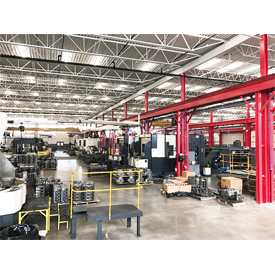 Dart Machinery in July 2015 completed the purchase of a 82,000-square-foot industrial complex in Warren, Michigan that would eventually combine the current headquarters and the manufacturing center into one central location.
Fast-forward almost two years and the move has progressed very well. For a big move like this, it's not as simple as calling a moving company and just packing up and moving, according to the company. It requires thoughtful planning and a tremendous amount of effort and collaboration to orchestrate such an enormous undertaking.
"We had to carefully think about, plan, take all variables into consideration and then execute to pull this move off," said Richard Maskin, president of Dart Machinery. "We have the distinct advantage of keeping production flowing, because we own our own facilities and equipment. We pick when to move certain machines, so that there is minimal, if any impact on increased production time."
Currently, 100 percent of the company's Makino machines have been moved to the new Warren location along with support equipment.
"We are in the process of moving departments from our Troy, Michigan, location and should have nearly all production under one roof by the end of 2017," Maskin said. "The last part of the company to be moved will be the administrative offices. When the new Dart headquarters in Warren is fully completed, it will be nearly 90,000 square feet."
For more information, visit Dartheads.com.