News
Motovicity Rolls Out New, 'Customer-Centric' Website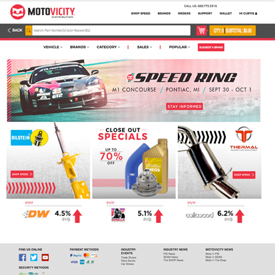 Motovicity Distribution has officially launched its new B2B e-commerce website. Incorporating many helpful features that provide a more insightful, confident, and simplified online shopping experience, the site helps Motovicity continue to progress toward establishing a new standard in their Better Than Direct customer relations initiative, according to the company.
The new site now includes digital manufacturer catalogs and documents, price files, and complementary product info. Other key website features include:
Fully PCI compliant and accepts PayPal
An Online Wallet that allows the management of payments in real time
The opportunity to suggest that Motovicity stocks a product currently not carried
"The pride of Motovicity is also strewn throughout the new site, bringing the knowledge of their ASE certified sales team directly to the customer 24/7," according to a Motovicity news release. The product search function on the website is enhanced by offering more than just part information. The search function also shows what other customers bought when purchasing the product they're considering; how to recommend helpful changes and additions to product information; image, specs, UPC, description, application; and the ability for the customer to be notified when an item is on sale.
Motovicity has 180-plus brands in stock and prioritizes supplying a comprehensive product presentation.
"This is why they've developed all-encompassing brand pages," according to the company. "When searching by brand, not only do the aforementioned product selection capabilities populate, but customers will also have access to quick links for the manufacturer being browsed."
"It has always been our goal to provide the performance aftermarket with a knowledgeable, first-class shopping experience," said Brian Lounsberry, Motovicity CEO. "With the new Motovicity.com, I am proud to say we are now able to offer that true Better Than Direct customer relationship 24/7."