News
Motor States's Product Line Now includes Antigravity Batteries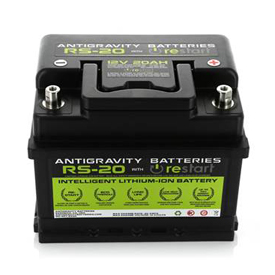 Motor State Distributing has added the Antigravity Batteries (ANT) product line to the company's list of brand vendors.
Antigravity Batteries is best known for manufacturing the lightest, smallest, most powerful lithium-ion batteries for powersports, according to Motor State.
Antigravity Batteries now offers the new RS-20 Intelligent Lithium-Ion Starter Battery, with a built-in Battery Management system (BMS), automatic Low-Voltage Cut-Off, and RE-START Technology. The RS-20 goes into a sleep mode with enough energy to restart the vehicle in an over-discharge battery condition. Press the RE-START button-"no need for jumper cables or a booster pack. The RS-20 weighs only 10 pounds and cranks out an 1,000 amps to start a 900 HP big block. It's 70 percent lighter than other batteries it size, according to the company.
Motor State Distributing stocks the Powersports ATX12 series lithium batteries, RS-20 car battery, various battery chargers and trays for immediate shipment.
For more information, contact Motor State at 800-772-2678 or visit www.motorstate.com.