News
Motor State Distributing Adds BAK Industries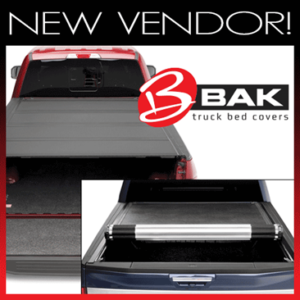 Motor State Distributing has added the BAK Industries (BAK) product line to the company's ever-expanding list of quality brand vendors.
BAK Industries is best known in the industry for their premium composite and aluminum hard folding, retractable and roll-up bed covers.
BAK Industries new premium hard-folding BAKFlip MX4 cover features heavy-duty aluminum panels finished in matte black that offers superior UV and scratch resistance and an enhanced premium density foam core. Equipped with upgraded latch housing components and an all-new integrated tailgate seal, according to the company.
The BAK Revolver X2 hard aluminum roll-up cover easily rolls up with one-handed operation and allows use of every inch of the truck bed without blocking your rear window, according to the company.
BAK bed covers-made to improve aerodynamics and increase gas mileage-are made in San Fernando, California. The hard covers are made secure to protect cargo in harsh-weather conditions and add aesthetic appeal to today's modern pickup trucks.
Motor State Distributing stocks these two premium bed covers and the entire BAK Industries product line.
For more informaiton, call Motor State at 800-772-2678 or visit www.motorstate.com.