News
Motor State Debuts 2017 Truck Parts & Accessories Catalog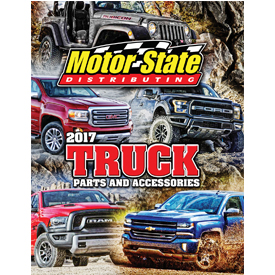 Motor State Distributing has introduced its 2017 Truck Parts & Accessories catalog.
"The truck and SUV industry consists of a variety of niche markets. Suspension, engine and drivetrain upgrades along with appearance accessories and functional improvements are the major elements of this large group of enthusiasts," Motor State Distributing stated in a news release. "Whether a daily driver, work vehicle or a recreational vehicle, the 2017 Motor State Truck Parts and Accessories catalog is the perfect sourcebook.
"Specialty catalogs are one of the many value-added dealer services provided by Motor State Distributing."
For more information, contact Motor State Distributing at 800-772-2678 or by visiting www.motorstate.com.