News
Mickey Thompson Readies for 4-Wheel Jamboree Nationals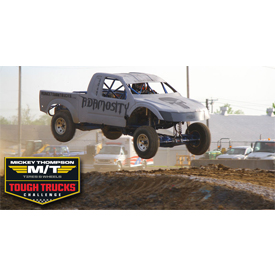 Mickey Thompson Tires & Wheels will be right in the middle of the 4×4 and off-road action this summer at the popular 4-Wheel Jamboree Nationals, a three-weekend series that kicks off May 19 at the Allen County Fairgrounds in Lima, Ohio. 4-Wheel Jamboree Nationals offer an action-packed weekend of monster trucks, 4x4s, off-road parts and accessories, and related events including drags, mud bogs, burnout contest, UTV shootout and Miss 4-Wheel Jamboree pageant.
Mickey Thompson is the main sponsor of the event's Mickey Thompson Tires Tough Trucks Challenge, and supports other exciting happenings such as the monster truck competition, show 'n shine, manufacturers' midway and more. The family-friendly weekends attract off-road fans from across the state and region who come to watch the competitions, show off their own 4x4s and see the latest parts and accessories.
The Mickey Thompson Tires Tough Trucks Challenge is a highlight for many participants and fans, according to the company. A stock class allows registrants to enter their daily drivers and run an off-road obstacle course against the clock. Competitors taking it to the next level enter the Modified Tough Trucks competition. Although the vehicles' bodies often look stock and their engines are naturally aspirated, Modified Tough Trucks are otherwise heavily modified to handle the bumps, jumps, corners and hazards inherent in each course.
Changes to this year's Tough Trucks Challenge include the implementation of a transponder timing system; new, longer courses where possible; and a new logo for competitors' vehicles inspired by the updated Mickey Thompson Tires & Wheels branding unveiled at last year's SEMA Show.
The 2017 4-Wheel Jamboree Nationals are scheduled for May 19 to 21 in Lima, Ohio; July 7 to 9 in Bloomsburg, Pennsylvania; and Sept. 15 to 17 in Indianapolis.