News
MEMA's NAFTA Renegotiation Discussion Draws Standing-Room-Only Crowd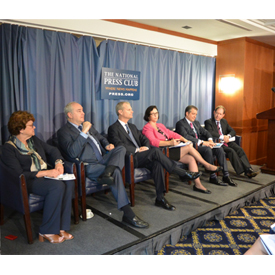 The Motor & Equipment Manufacturers Association (MEMA) on Aug. 9 hosted a policy panel discussion on the upcoming NAFTA renegotiation at the National Press Club in Washington, D.C. The event attracted a sizable crowd, according to the group.
Moderated by Bruce Hirsh of Tailwind Global Strategies-a former U.S. trade representative for Japan, Korea and APEC and former chief international trade counsel for the U.S. Senate Committee on Finance-the panel tackled tough topics related to the North American Free Trade Agreement (NAFTA), such as national security, reshoring jobs, tariffs on imported materials, trade deficits and the value of an integrated supply chain.
Attendees included members of the American, Canadian and Japanese media; associations and corporations within automotive industry; and representatives from government agencies such as the U.S. Trade Representative, U.S. Environmental Protection Agency, U.S. Department of Commerce, U.S. Department of Transportation, National Transportation Safety Board and the Mexican Embassy.
MEMA, which represents the largest sector of manufacturing jobs in the U.S., has taken a leadership role as legislators and trade experts explore the potential impacts of renegotiating or modernizing NAFTA and implementing other critical trade rule changes, according to the group.
"MEMA has expressed a strong position on NAFTA renegotiations. Motor vehicles suppliers are part of a global industry and are dependent on a world-wide network of suppliers and customers for continued viability and growth," said Steve Handschuh, MEMA president and CEO. "Events like this in Washington, D.C., provide a platform for MEMA to represent our members and help policy makers understand that that great care needs to be taken in renegotiating or modernizing NAFTA."