News
Melling Performance Extends Partnership with Erica Enders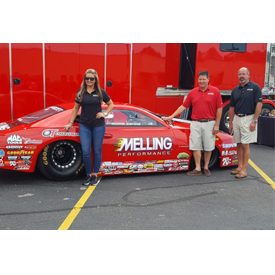 Erica Enders and her Elite Motorsports Chevrolet Camaro has agreed to a contract extension with Melling Performance through the end of the 2017 season.
The contract extension was announced to employees during a visit Enders and the Elite team made to the company's headquarters Tuesday in Jackson, Michigan.
"We're extremely excited to keep Melling Performance on board with us for the rest of the season," Enders said. "It's a great partnership and we're going to do our best to get Melling Performance back in the winner's circle, NHRA style.
"Their facility was incredible and everyone there couldn't have been nicer to us," she added. "They were all pretty stoked to see the actual race car we run down the
quarter-mile every weekend, especially with the Melling logo on the doors."
The partnership between Enders, Elite and Melling Performance will now continue from this weekend's 63rd annual Chevrolet Performance U.S. Nationals through the entire Countdown to the Championship playoffs, which conclude in in November in Pomona, California.
Enders and Richard Freeman's Elite Motorsports team are currently in sixth place in Mello Yello points and have already locked a position in the Countdown to the Championship, which begins Sept. 15 in Charlotte.
Melling Performance initiated its involvement in NHRA when CEO Mark Melling attended one of the Charlotte drag races in 2016.
"All I knew was NASCAR," Melling said. "Coming to the drag races really opened my eyes to what a great sport the NHRA has going. If you can't get excited about all the horsepower going on out there, you're not a race fan whatsoever."