News
Meguiar's Reintroduces Microfiber Cutting, Finishing Discs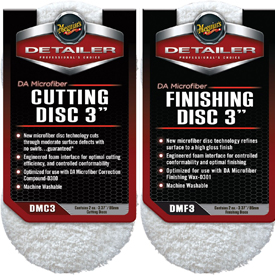 Meguiar's has announced the re-introduction of its 3-inch DA Microfiber Cutting and DA Microfiber Finishing Discs to satisfy the growing need for professionals and serious car care fans using Dual Actions Polishers.
Following changing market demand and the introduction of smaller detailing machines, the 3-inch microfiber discs deliver the same design and performance as Meguiar's 5- and 6-inch microfiber discs, according to the company. The smaller microfiber disc size allows detailers to reach tighter places, including bumper crevices and mirror caps, with more precise control.
Designed to fit Meguiar's MT300 Pro Power Dual Action Polisher, in addition to other dual-action machines with 3-inch backing plates, Meguiar's will offer the previously available two-packs, as well as introduce the new bulk 12-pack option for both Cutting and Finishing Discs for the first time.
In order to ensure that maximum results will be achieved while using the Meguiar's MT300 Pro Power Dual Action Polisher, the company has also reintroduced the Meguiar's 3-inch backing plate DBP3 for a proper disc match.