News
MAHLE Original Gasket Catalog Available Now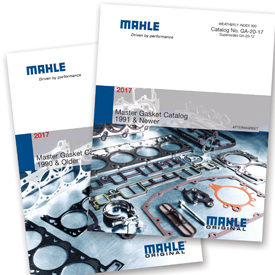 MAHLE Aftermarket Inc. has made available its 2017 MAHLE Original gasket catalog for Asian, European and domestic applications.
The MAHLE Original gasket catalog features 6,871 SKUs, including 1,314 new part numbers, and 1,151 part numbers that are exclusive to MAHLE, according to the company. The 2017 catalog provides coverage for over 1 million applications, representing more than 35-million vehicles in operation in North America.
"MAHLE Original gaskets match OE parts in form, fit and function," said Jon Douglas, general manager of MAHLE Aftermarket North America. "The MAHLE Original gasket line also offers the best coverage in the aftermarket, across domestic, Asian and European vehicles."
The catalog can be downloaded in PDF format on www.mahle-aftermarket.com. The part numbers contained in this new catalog are also available in the eCatalog online at catalog.mahle-aftermarket.com/na, where the application can be searched by product, vehicle make and engine. The catalog is written in English, with French and Spanish translations available for the body of the catalog.
MAHLE Aftermarket Inc. announced at AAPEX 2016 that the new brand name for the gasket line would be MAHLE Original; these are the same sealing products sold in North America since 2007 under the Victor Reinz brand licensed to MAHLE Aftermarket.
For more information, visit www.mahle-aftermarket.com.