News
LINE-X Partners with Curry Supply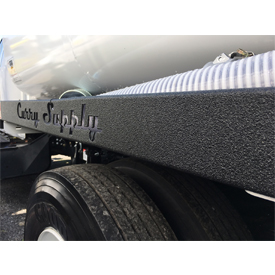 LINE-X has entered into a partnership with Curry Supply, a manufacturer of commercial service vehicles that include several different types of on and off-road work trucks used in a variety of different construction, maintenance and service trades.
Curry Supply is leveraging the partnership by applying LINE-X protective coatings to numerous different exterior components. The coatings will help extend the life of the vehicles and enable enhanced customization options with color-matching capabilities and other style preferences, according to the company.
In addition to using LINE-X on their new vehicles, Curry Supply has also incorporated LINE-X protective coatings into their commercial vehicle reconditioning and restoration service.
"When I was introduced to the LINE-X product, the opportunity to make our vehicles more resilient to tough conditions and elements, immediately came to mind," said Jason Ritchey, president and owner of Curry Supply. "We are thrilled with what LINE-X coatings do to make our products even more compelling-including extended vehicle life and the ability for us to customize colors and surfaces. Even more, the continued support, training and customer service that LINE-X has provided us has been second-to-none."