News
LINE-X Begins New Era with Freshly-Built Corporate HQ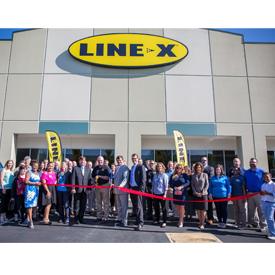 LINE-X is celebrating the start of a new era with the April 27 opening of its new corporate headquarters in Huntsville, Alabama.
The opening event was attended by more than 75 corporate LINE-X personnel, as well as local and state officials. It began with a ribbon cutting and remarks by LINE-X President Dennis Weese, followed by tours, a dive into the recently implemented 'brand experience' elements, and a spray demonstration.
"I am extremely proud to officially dedicate our new home here in Huntsville," Weese said. "Our growth over the past few years has been tremendous so it was imperative that we transition into a facility that not only better serves the current needs of the business and our franchise network, but also supports our plans for expansion. And with the company being recently named the 'Medium Automotive Manufacturer of the Year' by the Business Council of Alabama, it's been a very exciting past few weeks for us."
Facts and insights about the new LINE-X headquarters, straight from the company:
The new 60,000-square-foot facility is more than 20,000-square-feet larger than the previous location and took around four months to build
About 30,000 square feet of the new building is dedicated warehouse space for material production, storage and shipping/receiving for domestic/international shipments
Remaining space is dedicated to executive and staff offices, two high-production spray booths, a product testing area, training rooms, research and development areas and room to expand in the future
The company's recent evolution and move towards becoming a 'lifestyle brand' is reflected in artwork, wall wraps and displays across the facility, which were designed to highlight a uniform 'brand experience' across the franchise network
An all-new state-of-the-art training facility is an especially important feature for LINE-X franchisees, distributors and technicians from all over the world.