News
'Life Is Better Off-Road' Award Reveals Judging Panel and Host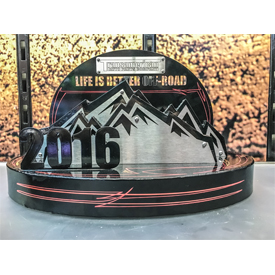 Transamerican Auto Parts announced the panel of expert judges who will be selecting the recipient of the 2017 Life is Better Off-Road SEMA builder award. The group of professionals was chosen to represent a broad spectrum of the off-road industry and are noted as some of the most accomplished names in off-road vehicle engineering, development, fabrication, journalism and off-road motorsports, according to the company.
Now in its third year, the Life is Better Off-Road award is an annual industry prize awarded by Transamerican Auto Parts to the best-presented, truly off-road capable truck, Jeep or SUV on display at the SEMA Show in Las Vegas.
Hosting the award presentation is Los Angeles radio DJ, producer and personality Jay "Lightning" Tilles from the world famous KROQ radio station. As an icon in L.A. radio, Lightning has cultivated a love for trucks, Jeeps and custom vehicles since his childhood. His personal collection of vehicles is a testament to that passion.
Judges include
Jeff Geiser-Geiser and his brother Rick Geiser have collected more off-road overall victories than all other vehicle builders combined. Together with their company, Geiser Brothers Design and Development, they have cornered the market on the elaborate, technically advanced, seven-figure trophy trucks designed to fly across the desert at speed. Jeff Geiser will be joining the panel for the first time
Casey Currie-Currie, an off-road racing champion and world-renowned Jeep accessory designer and manufacturer, returns to the panel this year. Respected throughout the industry, Currie has spent nearly his entire life racing, building and creating innovative solutions for off-road enthusiasts
Joining the panel for the first time this year is metal manipulator, veteran fabricator and pioneer in rock crawler vehicle building and racing, Rob "Bender" Park. park has been modifying and fabricating since his youth while learning to weld at the age of seven and has built rigs for some of the biggest names in racing, including Mike Shaffer, Pete Mazzoni and many more
Returning for his second year of judging is grassroots racer, self-taught fabrication role model, internet personality and journalist, Bill Caswell. Caswell rose to Internet fame in 2010 by purchasing a $500 used BMW on Craigslist and competing in an FIA-sanctioned WRC event, taking a podium finish in class. In between building low-budget race cars and general tomfoolery, Caswell can be viewed across the internet appearing with the Hoonigans while amassing millions of views with his individualized personal flair
Sean P. Holman and Craig Perronne-The Jeep and off-road journalists round out the judging panel. Holman's serves as content director of the truck & off-road group at TEN: The Enthusiast Network. He oversees the editorial content, production and strategy for the group's seven brands, while Perronne, who has had an extensive career as an off-road journalist, is editor and publisher for 4 Wheel Parts' Off-Road Adventures magazine.
The group will be selecting 10 semi-finalists from among previously submitted entries based on such criteria as off-road reliability and capability, real-world functionality, quality of craftsmanship and overall vehicle presentation. From these contenders, one Jeep and one truck or SUV will be chosen as the two finalists vie for the designation of being named the most authentic off-road-capable vehicle at the SEMA Show.
The award, a custom designed trophy, will be presented by Transamerican Auto Parts President and CEO Greg Adler at 2 p.m. on Nov. 2 at the ProComp/Transamerican Auto Parts Booth (No. 62112) within the SEMA SCORE Baja 1000 Experience Area, located outside of the South Hall in the Silver Lot.
As part of the award package, the winner will receive a cover feature and multi-page vehicle spotlight in ORA Magazine, recognition across the spectrum of Transamerican social media and digital channels, an invitation to be displayed in feature locations at TAP-sponsored events, trade shows and truck and Jeep fests, along with the benefits of extensive partner media coverage of the award. The 10 semi-finalists will also be mentioned in the full media campaign as well as receiving ribbons in recognition of their achievement.