News
LEDtronics Provides Sleek Shop Lighting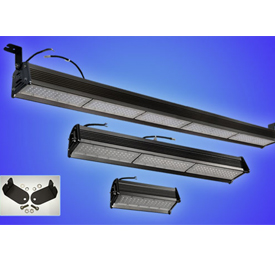 The new series of DLC-Listed Linear High-Bay LED Lights are available from 1- to 5-foot lengths from LEDtronics . The 3-, 4-, and 5-foot versions of the LHB001 series are dimmable and feature an oval beam, while the one and two-foot versions include a round beam.
The dimmable fixtures are Title 24 compliant, and are an ideal energy-saving solution for workshops, warehouse aisle lighting, factory floors and big-box stores, according to LEDtronics.
The LED linear high bay lights consume 50-240 watts, compared to the 200-1,000-watt metal-halide and high pressure sodium lamps.
The DLC-Listed Linear LED High Bay Lights range from 6,545 to over 30,000 lumens. The IP66-rated LED fixtures inlcude a black surface finished in pure white 5000 Kelvin, and are also available in other color surface finishes and color temperatures, as well as other beam patterns to qualified volume orders, according to the company.
For more information, visit www.ledtronics.com/ or call 800-579-4875.