News
Kooks Launches New Brand for Exotic Applications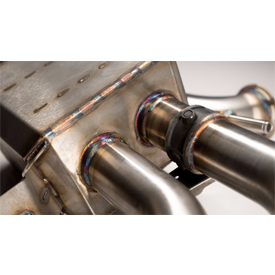 Kooks Headers and Exhaust has introduced Kooks Exotics, a new brand of custom exhaust systems for high-end vehicles.
The initial product lines from Kooks Exotics cover the McLaren P13 Sport Series M838T (570S, 540C, 570GT, 540 Spyder),  Lamborghini Huracan (LP 610-4, LP580-2 & Spyder) and Mercedes-Benz AMG (GT-S/GT/GTR/GTC) models.
"Kooks Headers and Exhaust has always striven to be the highest quality exhaust system for late model domestics," said Chris Clark of Kooks Headers and Exhaust. "Kooks Exotics is taking that bar and raising it to the next level. We are putting all our handcrafted ingenuity into each and every exhaust. Kooks Exotics is the new standard in quality exotic exhaust systems."
Delivering the best value, best sound and best performance on the market, Kooks Exotics combines in-house manufacturing and individualized tones for a custom exhaust that's quiet when it needs to be, and aggressive when you want it to be, according to the company.
Kooks Tuned Individualized Exhaust tones were created for each exotic vehicle. For instance, the McLaren P13 Sport Series exhaust systems provide a deeper, more robust exhaust tone, cancelling out the less desirable frequencies created from the small displacement flat plane crank V-8. The system also eliminates the McLaren factory drone, according to the company.
Meanwhile, the Lamborghini Huracan exhaust was loud from the factory, so the Kooks Exotics systems help balance out the harsher frequencies, providing a more finished, finely tuned sound.
Manufactured from 304 aircraft-grade stainless steel and TIG-welded for strength and precision, Kooks Exotics products are mandrel-bent and feature an exclusive 2,500-degree high-temperature coating from Jet-Hot High Performance Coatings that contains heat for improved performance. Offering an OEM-level fit and finish, the exhaust systems also provide weight savings of 30 to 45 percent over factory systems, according to the company.
All manufacturing is done in-house using a 6,000-watt Mitsubishi laser cutting machine, CNC bending equipment, highly skilled welders and more, allowing Kooks to keep the price down while providing quality that matches the precision vehicles the KE line is built for.
For more information, visit kooksexotics.com