News
KICKER to Sponsor 2017 Car Audio Championship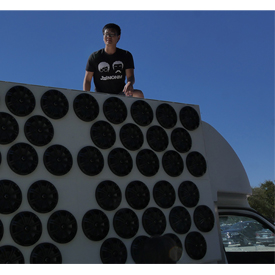 KICKER will be a co-sponsor of the 2017 Car Audio Championship, featuring over 400 dB Drag Racing, IASCA and MECA competitors packing the Kentucky Expo Center in Louisville Oct. 14-15.
KICKER also is attending the event in support of lithium-battery manufacturer JY Power, and its new KICKER-equipped SPL vehicle dubbed The Cube. The converted delivery truck features 40 elite Q-Class 15-inch L7 subwoofers, powered by 20 KICKER KX-Series 2,400-watt mono amplifiers. The install also includes 12 KXM-Series 1,200-watt stereo amps powering 162 eight-inch, KM marine coaxial speakers.
Last weekend, competitors and fans watched the 60,000-watt system break the windshield within 20 seconds of its initial playing at the USACi Car-Audio Finals. The system was running on approximately five percent of total power, according to Travis Young, co-owner of JY Power.
More than 2,000 spectators are expected to attend this year's event, beginning at 10 a.m. each morning.
KICKER owns a rich history in audio competition, earning hundreds of sound-quality (SQ) and sound-pressure-level (SPL) trophies during the 1990s and early 2000s, according to the company.
"We are thrilled to see car-stereo competition experiencing a resurgence," said Kip Litsey, associate marketing director for KICKER.
The championship's three organizations are holding open triple-point events in addition to the invitation-only finals, allowing any competitor to build up points for the 2018 season.
dB Drag Racing is operating its North American championships in three locations simultaneously: Live in Louisville, Spruce Grove, Alberta, Canada and Concord, California. Competitors in all three locations will battle each other via live streaming.
dB Drag is also starting a Bagger Beatz motorcycle SPL class of competition.
"We've seen a lot of interest in aftermarket performance motorcycle sound systems," said Wayne Harris, founder of dB Drag Racing. "It reminds me of the '90s for cars."
For more information, visit www.kicker.com.