News
KICKER Hosts Goodguys Road Tour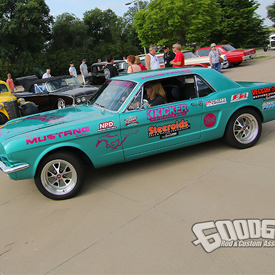 In what is becoming tradition, KICKER world headquarters played host to nearly 50 classic cars this week for the 2017 Goodguys Music City Road Tour.
Beginning in Phoenix, the week-long tour covered more than 2,000 miles, finishing in Nashville, Tennessee just in time for the Goodguys 12th Nashville Nationals, May 19-21. The tour made stops at several prestigious car collections, hot rod shops and manufacturers along the route to the music capital.
As part of the event, hosts John Myers (KICKER product training) and Randy Botts (KICKER lead installer) led guided tours through KICKER's Stillwater, Oklahoma facility. Snacks and beverages were provided.
"It was great to see so many classic cars and car lovers taking the time to learn about what we do," Myers said. "We took them through the (research and development) department, our custom install shop, through the warehouse and all around our museum. There was a lot of interest, especially in the labs and quality control. Many of the visitors said they had no idea how much work and care went into making KICKER gear."
Among the Goodguys caravan was KICKER-sponsored rally-racers Team Mustang Girls, making one of their numerous cross-country treks in 2017. Driver Courtney Barber, co-pilot Amie Williams, and their 1965 Mustang have been regulars on the annual Goodguys Road Tours in recent years.