News
KICKER Awarded Third Patent for Subwoofer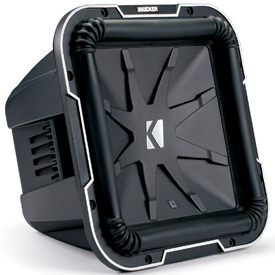 Stillwater Designs has successfully registered another design patent for the L7 square subwoofer.
The most recent of the L7 patents was registered to protect the unique look of the subwoofer, and is the third overall assigned to the sub since its inception in 2000. Overall, the L7's design took an estimated six months and 4,000 hours of labor, utilizing the entire research and development department.
KICKER's lead mechanical design engineer and L7 design team lead, Kyle Ambrose, described the creative process as highly collaborative.
"After the first draft of the design was created by our industrial designer David Justis, it was brought to the Design Team for review. In the meeting, we got our ideas approved or massaged by (KICKER President and founder) Steve Irby, with input from the sales and marketing team. It is my responsibility to make those suggestions happen and get them implemented in the product."
KICKER's signature L7 and its square cone moves more air than similarly sized, traditional round subwoofers, creating a louder driver, according to the company. To ensure that the additional bass is as reliable as it is loud, the L7 subwoofer features a cast-aluminum basket for exceptional rigidity as well as finned aluminum heat sinks for heat dissipation. The woofer's Blue-Lace spider, SoloKon 360-degree back bracing, and a laser-etched cone brace combine as a single, ultra-rigid unit to ensure linear cone excursion under stress. The result is increased clarity, higher volume and longer life.
For more information, call KICKER at 800-256-5425 or visit www.kicker.com.