News
Katech Develops Horsepower Boosting Porting Technology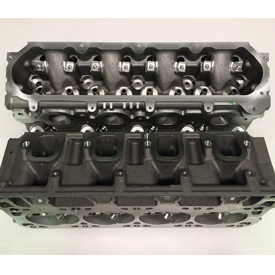 Performance engine builder, Katech Inc., has developed proprietary CNC porting technology to increase horsepower on generation five LT1 and LT4 engines found in C7 Corvettes and generation six Camaros.
Katech's CNC porting technology increases the heads' airflow velocity and capacity, according to the company.
At .700-inches of lift, the heads flow 332 cubic-feet-per-minute (CFM) on the intake side and 239 CFM on the exhaust side, compared to 295 CFM and 221 CFM, respectively, with stock ports, according to Katech. The combustion chambers are not touched in order to maintain factory compression ratio and ensure proper combustion with the engines' direct-injection fuel system.
Katech offers new CNC-ported heads with no cores required and CNC porting services for customers' cylinder heads.
"To make more power, you need to process more air," said Jason Harding, director of aftermarket operations at Katech. "Our proprietary CNC-porting program consistently optimizes airflow to complement other upgrades such as higher-flowing intake and exhaust systems, high-performance camshafts, stroker combinations, superchargers and supercharger upgrades. Our ported heads are instrumental in Katech's Stage II engine packages that deliver 600 horsepower in the LT1 and 750 HP in the LT4."
The cylinder head-porting service requires customers remove, disassemble, wash and ship their heads. It is not an exchange service, and customers will receive the same heads they sent to Katech after the porting service has been completed, according to the company.
"Regardless of whether customers buy new ported heads or send us their cylinder heads to be ported, our technicians perform the same procedures using Katech's state-of-the-art five-axis CNC machines," said Harding. "And turnaround time is extremely fast."
Additionally, Katech offers complementary components to facilitate the ported heads' installation, including new multilayer steel (MLS) head gaskets, head bolts, ARP head studs and high-performance valve train components.