News
JL Audio Adds Subwoofer Systems for Chevrolet Trucks, SUVs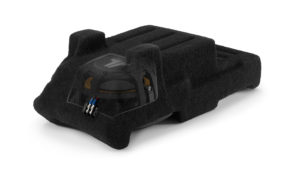 JL Audio has introduced three new Stealthbox subwoofer systems for the complete lineup of full-size SUVs and various trucks from Chevrolet and GMC. Compatible full-size SUVs models include the Tahoe, Suburban, and Yukon-model years 2015 and up. Truck models include the full-size Silverado and Sierra-model years 2014 and up-and crew-cab mid-size Colorado and Canyon-models 2015 and up.
The compact Stealthbox subwoofer system is designed to fit inside the front center console, without affecting cup holders or storage space, according to JL Audio. Equipped with a single JL Audio, 10-inch, TW1 subwoofer, this subwoofer solution delivers extraordinary deep bass with zero compromise in vehicle comfort or function, and complete invisibility.
The Stealthbox for the mid-size Colorado and Canyon crew-cab trucks feature one JL Audio 10-inch, TW3, thin line subwoofer and is designed for placement under the rear bench seat, without affecting the ability to fold or recline the seat, according to JL Audio. The form-fitting design maximizes available air space to ensure excellent low-frequency extension and bass impact.
Using laser-scanning technology, JL Audio's development team precisely measures the nooks and tight spaces available within a vehicle for the Stealthbox. Solid modeling software is then used to design subwoofer solutions with precise fit and maximum enclosure volume, for strong, deep bass output.