News
Infringement Challenge During 2016 SEMA Show Ends in Omix-ADA's Favor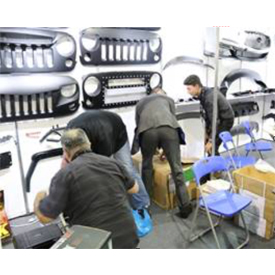 A decision has been handed down from U.S. district court in the case involving several off-shore companies accused by Omix-ADA of patent and trademark infringement, as well as participating in the manufacture of counterfeit products.
Based on the complaints filed in district court last year during the SEMA Show in Las Vegas, Omix-ADA/Rugged Ridge claimed numerous instances of infringement on trademarks and copyrights, as well as several instances of patent violations. Based on the merit of the claims, U.S. Marshals executed search and seizure operations during the SEMA and AAPEX shows-placing a temporary halt to the alleged illegal activity, according to Omix-ADA.
The companies who were found to be in violation but agreed to abide by the terms of a settlement were identified as Changzhou Jiulong Auto Lamps Factory and Sanmak Lighting Co. Ltd. While terms of the settlement were not made public, the agreement established clear-cut guidelines preserving the security of patents and other intellectual property, which Omix-ADA states as "an enormous victory for both manufacturers and consumers."
In an injunction handed down by the district court, companies who had not voluntarily agreed to terms were ordered to immediately cease manufacturing, importing and selling of all the infringing products in the U.S. at once. In addition, all marketing materials, catalogs and product inventory were to be destroyed and manufacturers tooling ordered surrendered immediately. The companies affected by the injunction were identified as Guangzhou Vcan Electronic Technology Co. Ltd., Shenzhen Unisun Technology Co. Ltd., and Unity 4WD Accessories Co. Ltd.
"While this triumph of the justice system does not undo any damage already done, it does help establish a significant precedent to uphold across the automotive aftermarket in the future," Omix-ADA stated in a news release. "With counterfeiting and infringement becoming a widespread problem throughout the industry, aggressively combatting any occurrences through the proper legal channels makes it very clear that such actions will not be tolerated."