News
ididit's 40 Style Steering Column Honored Again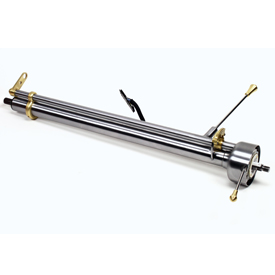 ididit's 40 Style Steering Column has impressed the Goodguys judges. Featuring a brushed stainless steel finish and 1940's-style dress-up kit with brass knobs, the special edition column was a winner at the recent Goodguys 20th PPG Nationals in Columbus, Ohio.
A classic update of a time-honored hot rod column, the 40 Style's blend of vintage looks and modern convenience earned it the title of Best Body, Glass, and Interior Component in the 10th annual Goodguys Best New Product Awards Showcase, according to ididit.
ididit's column also has been honored with the 2016 NSRA Best New Product Award, and the 2016 SEMA Show's Best New Street Rod/Custom Car Product Award.
"The 40 Style column was an exciting project for us," said Marty Waterstraut of ididit. "It showcases our dedication to innovation and quality, so we are thrilled that the 40 Style column has been such a success for our customers."
Features include a vintage-style brass shift indicator and a cutting-edge locking detent-an important safety feature that allows the column to lock into Park and Neutral positions, according to ididit. Self-canceling turn signals, four-way flashers, horn wiring, a 3-7/8-inch GM-style wiring plug and a 3/4-36 lower shaft are also included.
The column accepts most aftermarket steering wheels with 1969-'94 GM adaptor and is available in two lengths.