News
ididit's Acquisition of Vintage Wires Connects Customizers with the Past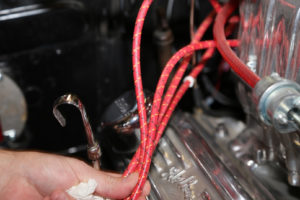 Custom steering column company ididit has made further inroads with fans of hot rods and customs with its acquisition of Vintage Wires, a Holland, Michigan-based business offering classic ignition cable sets.
Vintage Wires Ignition Cable Sets include 7.8-millimeter spark plug wires featuring a lacquer-covered cotton braid. They are EPDM silicone insulated, with a spiral-wound suppression core.
Boots, terminals and installation instructions are included.
The wires are reportedly popular choices for vintage racecars and other classic projects as they have the appearance of classic fabric wires but the safety of modern wiring systems.
"We're thrilled to be able to offer these lacquered-covered cotton wires that mimic the old-school look of the fiber-fabric wires people used to use," said Marty Waterstraut, ididit sales manager. "This acquisition of Vintage Wires really supports ididit's stated mission of providing top-quality products found in the finest street rods and specialty cars in the world today."
For model applications and ordering information, call 517-424-0577 or email sales@ididit.com.