News
How to Sell Leather…with a Mobile App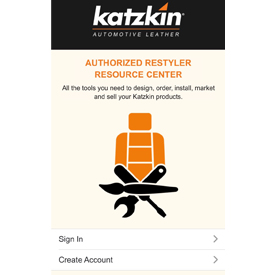 The new Katzkin Restyler Resource app allows restylers to take the business of aftermarket leather where ever they go. The app-available to iPhone, iPad, and Android users-provides key selling information, sales tips and a full design index to jobbers for every car make and model.
"All of these materials have been available to restylers through Dropbox, but we've packaged it all in a much more convenient format that is available offline," said Tim Clyde, CEO of Katzkin.
One problem with sharing Katzkin's detailed sales information on Dropbox, according to Clyde, is the spotty wi-fi service restyling expediters would sometimes encounther when visiting a car dealership on a sales call. The new app takes care of that by allowing expediters to pinpoint the data they'd like to share with clients and download it prior to their visit. Downloaded information can be accessed through the app on the expediter's mobile device.
The Katzkin Restyler Resource app is full of information neatly organized by navigation tabs placed at the top of the interface. It features sales brochures, a style guide for specific makes a models, Katzkin style options and product information, as well as suggested pricing. All of the information presented in the app is divided into subfolders to simply the process for searching for product and make/model information. Katzkin offers 120 colors and designs for its custom leather, which averages to about 15 unique designs per vehicle.
"We're here to support the restyling community," Clyde said. "We know firsthand how important it is to have the proper selling tools available to them in the most convenient way possible. Now everything is at their disposal while on the go thanks to this app."
Search for the Katzkin Restyler Resource app to download today.