News
Hot Wheels Brand Takes on Vehicle Detailing Products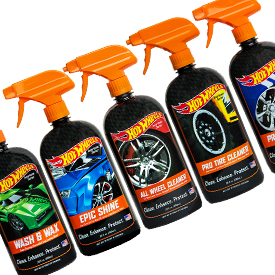 Americana Pro unveiled Hot Wheels Americana Series Car Care Products during the AAPEX Show in Las Vegas last week. The new consumer automotive appearance line features professional-grade, made in U.S.A. car cleaning and finishing products that promise to clean, enhance and protect, according to the company. The initial launch is focused on exterior detailing formulas.
"If you're like me, your love affair with cars began as a kid with Hot Wheels. I think car care is a natural next step," said Americana Pro Detailing Products Founder and Executive Director Daniel Pikarsky. "We've developed proven formulas that have received approval from the most demanding auto enthusiasts, while being easy to use. In field tests, Hot Wheels Car Care Products have received rave reviews from both car enthusiasts and professional racing teams worldwide.
"We're confident the Hot Wheel Car Care brand will ramp up initial sales and the formulas will forge strong repeat purchases," Pikarsky said. "This is the first time Americana Pro has released these professional-grade automotive appearance products to the general consumer."
The full line of Hot Wheels Americana Series Car Care Products, with descriptions directly from the company, include:
Wash & Wax-Biodegradable, pH balanced, soap quickly dissolves dirt and road grime while the soft, high-lubricity Brazilian carnauba wax shines and protects in one easy application
Epic Shine-Synthetic polymer-based five-minute spray detailer provides an unparalleled quick and easy hand shine. It creates an intense depth and gloss on any clear coated or chrome surface
All Wheel Cleaner-Foam-activated spray dissolves brake dust, grease, dirt and road grime. Its non-acidic formulation is safe for stainless, chrome, aluminum, painted and coated finish wheels and rims
Pro Tire Cleaner-Bleach-free formula safely Breaks Down The Brown returning tires to a like-new rubber surface. It rids tires of old dressing and road grime while making black walls black and while letters white
Pro Tire Finish-Solvent-based silicone tire detail spray creates a crisp, dark long-lasting showroom finish. The dual action formula Dials In Your Shine, either Satin Sheen or Ultra Shine, based on the number of layers applied
All five detailing formulas are available packaged in drums, gallons and totes for wholesale distribution to professional detailers, car washes, tire centers, body shops, auction houses, and  dealerships. These professional-grade products are fully VOC compliant and biodegradable, according to the company.
For more information on Hot Wheels Americana Series Car Care Products call West Pac Group at 760-726-8526 or visit AmericanaPro.com/hotwheels.