News
HOT ROD Power Tour Nearing Take Off in Kansas City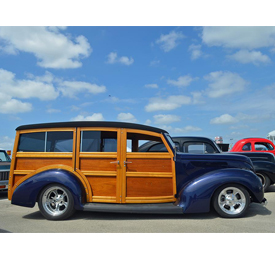 The 23rd annual HOT ROD Power Tour returns in June with more than 6,000 vehicles preparing for the seven-day swing that starts in Kansas City June 10. The tour, which attracted more than 110,000 spectators last year, will end June 16 in Bowling Green, Kentucky after going through Iowa,Illinois and Indiana.
Gearheads can join in at any point along the tour, however, the exclusive Long Haul Gang includes the people who take the entire Power Tour route. Participants can sightsee, explore, and show their cars in dozens towns along the way and in each participating city, hordes of local spectators will take part in the event as well as they welcome the massive Power Tour cruise to their city, according to HOT ROD magazine.
Last year, over 5,000 drivers met for the 1,400-mile journey from Louisiana to Kansas City, with 3,800 of those drivers and cars making the Long Haul Gang.
Specific stops this year include:
June 10-Arrowhead Stadium, Kansas City, Missouri
June 11-Iowa Speedway in Newton, Iowa
June 12-Mississippi Valley Fairgrounds in Davenport, Iowa
June 13-University of Illinois (State Farm Center) in Champaign, Illinois
June 14-Gateway Motorsports Park in Madison, Illinois
June 15-Lucas Oil Raceway in Indianapolis, Indiana
June 16-Bowling Green Warren County Regional Airport in Bowling Green, Kentucky
Click to learn registration information for the event; or to read the vendor booth form and agreement. For additional vendor booth information, contact Martha Carrasco by calling 949-705-3135 or emailing MCarrasco@enthusiastnetwork.com.
For hotel information, contact Motor Sports Travel Service at 310-906-6194 or by emailing motorsportstravel@gmail.com.