News
Honeywell Unveils Turbocharger Performance Series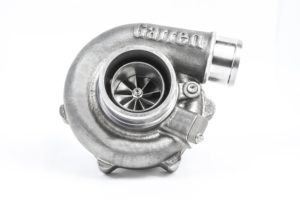 Honeywell has introduced its Honeywell Garrett G Series of aftermarket performance turbochargers, capable of supporting up to 660 horsepower.
The Garrett G Series contains the latest innovations in turbocharger technology design, materials and aerodynamics to meet the aftermarket needs of hard core competitors. It is the most powerful small-frame turbocharger available by the company, offering added performance in a smaller package with additional installation flexibility, according to Honeywell. To achieve this, company designers and engineers took a clean sheet of paper approach to focus on the needs of the performance enthusiast from the turbo's inception. This eliminated the need to work around inherited design characteristics supporting an existing Honeywell factory-installed turbocharger, and allowed for tailored performance features for competition needs and adding installation flexibility for a broad range of engine sizes.
Garrett G Series features include multiple housing orientations as well as four water port options among its many enhancements to help with packaging in smaller engine bays and to make engine connections easier.
"The new Garrett G Series reflects the best-in-class engineering and manufacturing standards we have developed during our considerable 60-year history, and our first-ever purpose-built competition turbos targeting the performance market from their design inception. The Garrett brand has a legacy of enabling racing championships, and we're committed to advancing the science of turbocharging for enthusiasts to help them cross the finish line first," said Eric Fraysse, vice president and general manager of Honeywell Transportation Systems Aftermarket.
Officially known as the Garrett G25-550 and the G25-660, these turbos will outflow all comparable products on the market while providing a 1.4-inch to 1.8-inch decrease in axial length, according to Honeywell. They will support 1.4- through 3.0-liter engine displacements, and are sold in standard rotation and reverse rotation configurations. There are also a variety of wastegated and non-wastegated turbine housing options.
At the heart of the Garrett G Series lineup is a forged and fully-machined compressor wheel. The new wheel and aerodynamics improve horsepower ratings, boost response, and efficiency when combined with the larger compressor housing. A new Mar-M alloy turbine wheel has also improved aerodynamics and increased temperature resistance up to 1050-degrees Celsius.