News
Holley Expands Earl's Shop Tools Lineup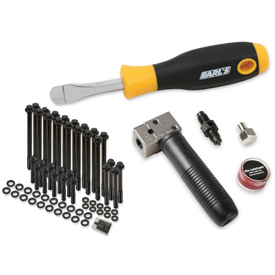 Holley/MSD has grown its line of Earl's shop tools and engine fasteners with new quarter-turn fastener tools, 45-degree double-flaring tools, and chromoly cylinder head bolts.
Earl's Quarter-Turn Fastener Tools fit comfortably in the hand and have a curved blade that's a perfect fit for either slotted quarter-turn fasteners or 3/16-inch hex-style fasteners (part number 042ERL), according to Holley. It's right the tool to keep from gouging up fasteners or scratching paint. Both are 6-1/4 inches in length with a comfortable plastic/rubber-grip handle, and both are compatible with all brands of quarter-turn fasteners.
Earl's 3/16-inch 45-Degree Double Flaring Tools are small enough to use right on the vehicle and tough enough to be clamped in a shop vise for bigger jobs. It features a removable rubber grip, die lubricant, and a positioning bolt that lines up the tubing at the correct depth to produce a perfect single or double flare every time. Ideal for use with steel, olive, copper, and Easy-Form (copper/nickel alloy) hardline tubing, according to Holley.
Earl's Cylinder Head Bolts are about 15-percent stronger than the strongest Grade 8 bolts and available for a huge array of popular applications, according to Holley. Manufactured from 170,000-PSI chromoly steel, they feature a reduced wrench size (12-point or hex-head) for extra socket clearance around the rocker arms when you re-torque the heads. The wide-flange head distributes the load evenly and provides additional support for the extra-thick chromoly washers. Available in a black-oxide finish and sold in complete sets, these made-in-the-USA fasteners are reusable, eliminating the hassle and expense of replacing OEM-style torque-to-yield bolts each time heads are removed.