News
Hillbank Motor to Sell Superformance and Shelby Cars in Arizona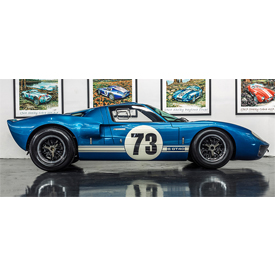 Highbrow car dealer, Hillbank Motor Corp., is holding a grand opening event on Saturday, June 3, for its new location in Tempe, Arizona. The grand opening party will feature car clubs, prizes, a ribbon cutting and a car show, which invites the public to show up with a classic car, street rod, hot rod or exotic vehicle. Doors will be open from 9 a.m. to 3 p.m.
The new location includes a 9,000-square-foot showroom, which will house all Superformance's continuation cars, as well as Shelby Cobras, Shelby Daytona Coupes, GT40s and the Corvette Grand Sport.
"Hillbank Motor Corp. will have extensive inventory in the showroom and will be a great addition to the Arizona car scene," said Lance Stander of Hillbank Motor Corp. "We proudly represent the Superformance and Shelby range of classic 1960s American sports cars. Each is fully licensed, meticulously engineered and factory built, allowing you the peace of mind that comes from making a sound investment.
"We're thrilled to be coming back to the Arizona market," Stander added. "The car culture here in the Phoenix and Scottsdale area is remarkable and we think our vehicles are the perfect fit. Our new location will be a one stop shop for sales, service and everything else related to your Superformance, Shelby, GT40 and GM licensed Corvette Grand Sport."