News
Hellwig Debuts Big Wig Air Springs For 2017 Ford Super Duty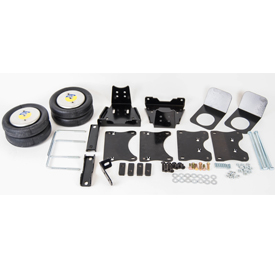 Hellwig Products has released its new aftermarket air spring suspension system for the 2017 line of Ford Super Duty trucks. The Big Wig's 2,800-pound springs allow Super Duty owners to tow and haul heavy loads with improved safety, stability and comfort by maintaining a level ride height, improving overall drive control.
The Big Wig Air Springs are available for two-wheel drive F-250 and F-350 trucks with single rear wheels, as well as four wheel drive trucks with up to a 2-inch lift, or with a 2-4-inch rear lift. Kits are also available for the F-350 and F-450 four-wheel drive and dually trucks with a stock ride height.
These kits feature a 2,800-pound air spring for each side and heavy-duty bulletproof brackets engineered to withstand the most demanding loads. The Big Wig air springs are 3-inches larger in diameter and up to 3-inches taller than those used by many other manufacturers. These larger springs require less air pressure for the same load, resulting in a softer spring rate, a more compliant ride, and increase level load carrying capacity up to the manufacturer's GVWR, according to the company.
Hellwig's bolt-on air springs allow for quick adjustments in air pressure to match the load and can even be configured independently to level out uneven loads. When paired with the optional compressor and tank mount the air pressure can be adjusted on the fly, allowing for quick load corrections without service station assistance, according to the company.
The Hellwig Air Springs can be installed with simple hand tools and includes all necessary parts. Similarly, the optional compressor and tank mount include all necessary parts and hardware. www.HellwigProducts.com.