News
Hauk Designs to Star at Carlisle Truck Nationals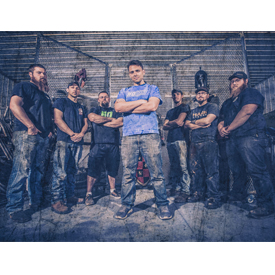 One of the best parts of the Carlisle Truck Nationals and Big Rig Show and Shine, according to organizers, is the event plays hosts to a wide array of unique designs, builds and creations.  From custom vans to mini trucks, monster trucks to big rigs and just about everything in between, this show is arguably the most diverse of its type in the mid-Atlantic region.
The 2017 edition runs Aug. 4-6 and as special showcases go this year, Carlisle Events is will host Hauk Designs for the weekend.
Hauk Designs is local to Chambersburg, Pennsylvania, but is well known nationally and internationally. Since early in 2017, the Hauk team has been featured on the History Channel program Road Hauks. Led by lead designer Kenny Hauk, his team works to build and fabricate ultra-powerful, one-of-a-kind vehicles that can go anywhere and do anything. The designs from Hauk and his team "take inspiration from iconic styles and designs throughout American history and transform America's right past into modern, drivable and show-stopping creations," according to the program description.
"That show-stopping factor is bound to come true once more as the team brings at least two creations to Carlisle, one a rig and the other an off-road truck known as the Hauk Willys '48," according to Carlisle Truck Nationals organizers.
In addition to the trucks on display, the team from Hauk will be at Carlisle to sign autographs, meet fans and discuss their creations.
"We are super proud to be a part of the Carlisle Truck Nationals event," Hauk said.  "We look forward to meeting up with fans of the Road Hauks TV show and checking out some amazing trucks from all across the country."