News
The General Lee Flies Again in Hazzard County This Weekend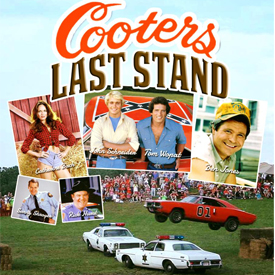 The fictional Hazzard County will become real July 29-30, according to Ben Jones, who played Cooter on popular TV series The Dukes of Hazzard. That's when the event Cooter's Last Stand is set to takes place at Cooter's in the Valley, near Luray, Virginia.
The event will feature appearances by John Schneider (Bo), Tom Wopat (Luke), Catherine Bach (Daisy), Sonny Shroyer (Enos), Rick Hurst (Cletus), and Don Pedro Colley (Sheriff Little).
"Hazzard County is a state of mind," said Jones, who at 75 is still going strong and having fun with the continuing popularity of The Dukes. "Cooter's Last Stand may be one of the biggest things we have produced.
Past events include the Dukesfest in Nashville in 2006, which, according to the Nashville Police Department, drew over 80,000 Dukes fans to Music City. That, according to Jones, was the largest gathering of fans for any TV show.
"And this will be the last big one we put on," he said.
After the Dukes ended in primetime, Jones served two terms in the U.S. Congress. He later appeared in films such as Primary Colors, Meet Joe Black and Joe Gould's Secret. In 1999, he and his wife, Broadway publicist Alma Viator, opened the first Cooter's venue in the Blue Ridge Mountains of Virginia. They also own and operate Cooter's stores and museums in Gatlinburg, Tennessee and Nashville.
"Our stores and festivals try to reflect the good times and old fashioned family values of The Dukes," Viator said. "We use Uncle Jesse's rules, no drinkin', no cussin', and no fightin'. We have families coming from all over the U.S. and from a number of foreign countries. The Dukes of Hazzard is a family favorite all over the planet."
This weekend's Cooter's Last Stand will feature a two-day music festival, car and bicycle stunts, a Civil War battle re-enactment, professional wrestling, and a Hazzard County car show featuring almost 200 General Lees, the 1969 Dodge Charger that was also a star of the show.
"We've been in America's hearts for almost 40 years now," Jones said. "We want our last festival to be a special 'thank you' to the world's greatest fans."
Fore more information, visit https://cootersplace.com/ or call 540-843-2515.