News
Forrest Lucas to Receive Bob Russo Heritage Award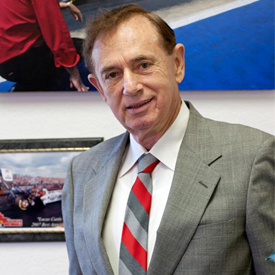 The Motorsports Hall of Fame of America (MSHFA) will award the Bob Russo Heritage Award to Forrest Lucas at the 29th Annual MSHFA Induction Ceremony presented by Bridgestone on June 28 at The Shores Resort & Spa in Daytona Beach, Florida.
The award, named in honor of the longtime motorsports journalist and historian Bob Russo, is presented at the recommendation of the MSHFA Board of Directors in recognition of the recipient's contributions to motorsports throughout his or her career.
Few people have done more to support motorsports at every level in the U.S. than Lucas, the founder of Lucas Oil Products, according to the MSHFA Board of Directors.
Lucas and his wife Charlotte founded the company in 1989 and motorsports became the cornerstone of the company's marketing strategy a few years later.
Under Lucas's direction, Lucas Oil is especially proud of its research and development technology and is constantly creating and testing a full line of racing oils, according to the company. Lucas Oil formulas have long enjoyed success at every racing level including such elite teams as Richard Childress Racing (RCR) in NASCAR and Schmidt Peterson Motorsports in IndyCar.
Lucas Oil has also become a major presence in the ownership and promotion of motorsports facilities. Lucas Oil Speedway in Wheatland, Missouri., is a multi-sport complex encompassing a state-of-the-art dirt track, a newly built short course off-road race track and the only purpose-built drag boat lake in the nation.
The company also owns and operates seven race series, works with other track owners and promoters, and supports the sponsorship of hundreds of race teams, series and individuals. Lucas Oil has the naming rights to Lucas Oil Raceway in Indianapolis, and the company designs and builds off-road short course tracks throughout the Southwestern U.S. and Baja California.
"When I look at the list of names of the Bob Russo Heritage Award winners already in the Motorsports Hall of Fame of America, like Leo Mehl, Bill France Jr, Carl Haas, Don Panoz and my old friend Linda Vaughn," Lucas said , "It makes me proud to be honored alongside them and be part of this great industry. I will always treasure this award."