News
Forgeline Rolls Out Gigantic Marketing Tool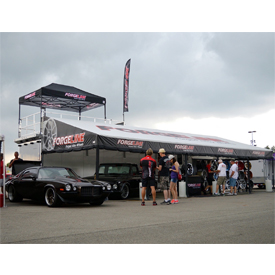 Forgeline Motorsports has debuted a custom 42-foot Intech all-aluminum trailer in an effort to meet directly with more consumers on a grassroots level. In turn, the company is expanding its events schedule.
The new Forgeline show trailer prominently features the company's signage with a side awning of their logo. The trailer has a sleek, gray stainless finish, keeping with the company's high-tech image. A viewing platform on the top of the trailer allows consumers a bird's eye view of the racetrack or event venue. It's long enough to carry a show car to events, which will be the company's yet-to-debut 1970 Camaro Pro Touring project car, according to Forgeline.
"We wanted to significantly improve our presence on-site at car shows and race tracks, so we decided to make a major investment in this event trailer. We're planning to increase our events and touring schedule in order to get out to these events and personally interact with our consumers and generate excitement for the Forgeline wheel brand. The on-on-one opportunities make the investment worth it," said David Schardt, company president.
The expanded Foregline show schedule will include more Goodguys events, including the upcoming Dallas/Fort Worth event, set for Sept. 29 through Oct. 1. The company also is adding the Motor State Challenge, the Holley LS Fest, select SCCA CAM Challenge autocross events and the Midwest Muscle Car Challenge in 2018. Forgeline is a sponsor of the SCCA CAM Challenge.