News
Fluid Line Specialty Tools Solve and Avoid Repair Problems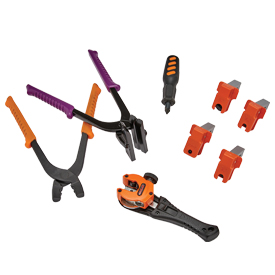 S.U.R.&R. is adding to its growing line of specialty tools for repairing or replacing automotive fluid lines.
The BTB5K brake tool assortment and BTB6P brake tool bundles feature everything needed to accurately cut, prep, bend and straighten brake line tubing, according to S.U.R.&R. Both products include:
FLS330 Fluid Line Stopper Clamps
RM69 Brake Tubing Reamer
TC60 Automatic Ratcheting Tubing Cutter
TP14316 Tubing Pliers
TS14316 Tubing Straightener & Bending Pliers
The BTB6P Brake Tool Bundle includes the  HFT50 HYDRA-Assist Flaring Tool.
The company's TC40 Ratchet-Action Tubing Cutter is a spring-loaded automatic cutter, which serves as an ideal general-purpose tool, according to S.U.R.&R. The tool works in a wide variety of tight spaces-tighten the tool when in a small corner and the ratchet-action will do the rest. There is also a convenient fold-out reamer that deburrs tubes after cutting. This multi-purpose cutting tool also works with a variety of different line types.
The TG16 Thread Gauge Kit will read thread sizes in seconds, either on or off the vehicle. The kit also will measure 16 male and female thread sizes, metric and imperial. The components are heavy-duty, featuring pre-hardened 4140 steel construction, according to the company.