News
Floor System Company Dur-A-Flex Upgrades its Website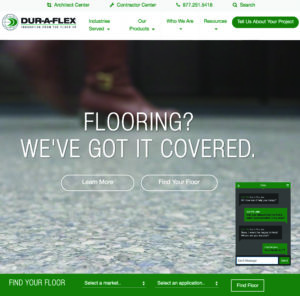 Dur-A-Flex Inc., a manufacturer of commercial, industrial and institutional resinous floor and wall systems, has released its new, enhanced website.
The new site features redesigned drop-down menus giving quick access to product and market information; cutting-edge visuals; a live chat feature nicknamed Kyle; and a robust search engine.
"Making it easier for customers to research, learn and find the right products for their application or market was one objective, and another was to make the site scalable and the best customer experience out there," Peter Ferris, Dur-A-Flex president and COO, said of the recent upgrade. "This new, enhanced site not only serves as an update to our website architecture, but gives us a robust platform to provide written and visual content to the marketplace, allowing Dur-A-Flex to become a leader in the digital space."
The company is a family-owned manufacturer of high-performance, resinous floor and wall systems.