News
Firstech Refreshes Compustar and Arctic Start Remote Start Lineup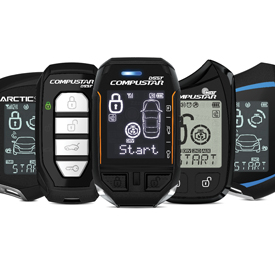 The makers of Compustar, Arctic Start, and DroneMobile are launching a new lineup of remote kits for controlling a remote start or security system. The new lineup of Compustar and Arctic Start remote kits by Firstech highlights the company's focus on two-way remote technologies.
Firstech's flagship brand, Compustar PRO, will be headlined by the new PRO G15 and PRO R3, both of which feature Firstech's Digital Spread Spectrum Technology and up to 2 miles of range. Each of these remote kits is equipped with two-way confirmation, a feature that Firstech is committed to adding to every remote start customer's purchase, according to the company.
"Since Firstech was founded in 1995, our company's specialty has been two-way technologies," said Jason Kaminski, Firstech's managing director. "Firstech was the first company to release a two-way remote with 1 mile of range, and also the first to release an IPX-7 waterproof two-way remote. Our two-way technologies have been a critical point of differentiation from our competitors, both aftermarket and OEM, and we look forward to continuing that legacy with our updated lineup."
In addition, Firstech's new two-way remote kits have been added to its core brand, Compustar PRIME, and also Arctic Start. Details regarding each of these individual kits will soon be released.
All Firstech remote start and security systems are upgradeable, meaning that customers with legacy hardware will still be able to add these new remote kits to their existing systems.
Firstech's new lineup of remote kits is scheduled to ship in early September. Those interested can view the company's corporate catalog at www.firstechllc.com.