News
East Coast Defender to Customize Range Rover Classic Vehicles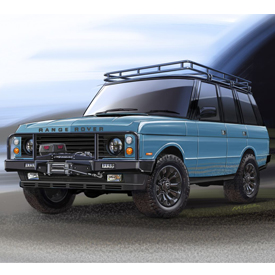 East Coast Defender (ECD) is now offering custom Land Rover Range Rover Classics (RRC).
Production of the first custom RRC by ECD, Project Alpha, is underway and scheduled for completion in January. All ECD Range Rover Classics will be hand built alongside the company's Defenders at The Rover Dome in Kissimmee, Florida. ECD will begin accepting orders immediately for custom 1970-1996 Range Rover Classics.
Project Alpha will be built on a 1995 long wheel base model that features the soft dash. This particular version was a favorite for many owners when it was first introduced.
ECD's goal with each RRC custom build is to keep the heritage of the vehicle intact.
"Our custom RRC will bring the car to the 21st Century, without sacrificing its classic heritage and originality," said Elliot Humble, ECD co-owner. "We'll make it feel much more premium by focusing on some key design elements. For example, we'll keep the original seats, but completely rebuild them with premium leather, stitching and trim appointments. We'll also rebuild the entire center console and integrate the latest audio and mobile technology creating a luxury treatment that is both modern and practical for everyday use. There will simply be nothing comparable on the market."
The ECD build process begins with a client selecting the body style, drivetrain, wheels, tires, accessories, and exterior and interior colors of their custom RRC while working with ECD's lead vehicle designer. The ECD team then finds the foundation RRC vehicle and begins the build process by tearing it down to the bare chassis. Every project is then rebuilt, repainted, and reupholstered from the ground up and completely done in-house.
"The Humble brothers and I decided that it was time to take the Range Rover Classic to the next level," said Scott Wallace, ECD co-owner. "But, that meant we were going to have to make some immense changes to our production model. Fortunately, over the last three years we've been putting into place the business consistencies that would enable us to make this major leap forward with the RRC. We believe our custom models are something the market hungers for and more importantly, a vehicle that reflects the high standards to detail and quality that has become synonymous with the East Coast Defender brand."
Custom options will include two LS-based engines, including the LS3 V-8 (430 horsepower) or LC9 (330 horsepower) paired to either an automatic or manual GM transmission, as well as 10 exterior and five interior color options, along with premium leather and stitch offerings. The dashboard and console will also be upgraded to include modern technology such as WiFi connectivity and wireless phone charging.
"Our custom RRCs will be the kind of vehicle that is suited for practically anything," said Tom Humble, ECD co-owner. "Our clients will take the same design journey that they would with our Defenders. There really is no limit to how we can transform the RRC into an SUV that supersedes everything currently being built. Each will have a different look and feel, which means you're not going to see 15 of the same car lined up at your children's school or at the valet. They'll supersede everything currently being built and will be as comfortable as jumping into a brand-new Range Rover."