News
DEI Introduces 2018 Product Catalog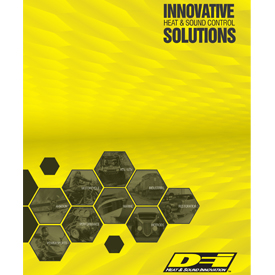 Design Engineering Inc. (DEI) has released its latest product catalog: Innovative Heat & Sound Control Solutions.
The new catalog includes close to 70 new DEI and Boom Mat part numbers featuring thermal and acoustic solutions for classics, muscle cars, grassroots or Sportsman racing, street rods, street or off-road trucks, ATV/UTVs and daily drivers.
A sample of new products include the company's new GOLD series: GOLD Cool Cover, Heat Sheath and Heat Shroud for maximum line and hose protection, especially under the harsh environment of high output racing, according to the company. Manufactured from high temperature metalized Polyimide lamination bonded to 20-ounce heat-treated glass fiber base material, DEI's new GOLD series keeps components cool and protected for all race applications.
New lengths of the popular Black Titanium exhaust and header wrap in 2-inch width and Easy Loom Split Sleeving and Master Kit that includes everything in one kit to add protective split line sleeving for an entire vehicle with five different diameter split sleeves (3/16″, 5/16″, ½", ¾" and 1″) in addition to quality 3:1 shrink tube ends, silicone tape, nylon zip ties and electrical tape, according to the company.
DEI also offers a full line of thermal products for powersports including heat shield kits for the Honda Pioneer, Can-Am Commander and Polaris Slingshot and RZR that blocks excessive heat from the engine bay and reduces engine noise and vibration.
Additionally, the new catalog features a large number of application-specific products for the Camaro and Corvette such as a Camaro pre-cut floor, firewall, headliner, trunk and other interior locations, in addition to four new thermal solutions for Corvette including a Transmission Tunnel Plate Shield for the C5 and C6. New heat solutions include an LS1 Coil Pack Heat Shield, a universal Catalytic Converter Shield and D-Mat, a new ultra-lightweight insulation material ideal for interiors as a sound and thermal insulator.
Whether it is the off-road focused EXO Series Sleeve, or Boom Mat Tape and Prep Spray, the 2018 catalog features products that will help protect vehicles from extreme heat or cold, abrasive conditions and also improve sound quality, according to DEI.
The new 2018 Innovative Heat & Sound Control Solutions catalog is now available to pick up at the 2018 SEMA Show at DEI's booth (No. 20019), or may be downloaded as a PDF at DesignEngineering.com.
For more information about DEI's Innovative Heat & Sound Control Solutions, call 800-264-9472, or email Sales@DesignEngineering.com.