News
Customize Headers with Kooks Weld-Up Kits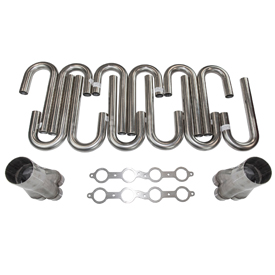 Custom vehicle builders and race teams can now create their own headers with the new DIY Weld Up Header Kits from Kooks Headers & Exhaust.
The new kits come with everything needed to build custom headers, including 12 J-Bends, two slip-on collectors (available in 3-inch or 3.5-inch), and two engine specific flanges.
Available steel options for the DIY Weld Up Header Kits include corrosion-and rust-free 304 Grade Stainless Steel, and cost-effective Mild Steel.
High-quality 304 Grade Stainless Steel provides longevity, withstands high heat and can be repaired, whereas Mild Steel is geared for race teams constantly changing their setups. Both varieties include 1-3/4-inch, 1-7/8-inch or 2-inch primary tube sizing options. Kooks ensures the quality of its steel by sourcing it locally from a manufacturing plant in its hometown of Statesville, North Carolina, according to the company.
The 3/8-inch thick flanges are laser cut in-house by Kooks with their new state-of-the-art Mitsubishi Laser Machine. The tubing is Mandrel bent, which allows air to flow through more smoothly and unrestricted, allowing more power to push through, a clear benefit in headers.
"These new do-it-yourself kits provide builders with the quality, American-made materials we use at Kooks and the freedom to design and install their own set of headers specific to the needs and goals of their project," said Chris Clark of Kooks Headers. "We are excited to see the custom set ups created by the talented fabricators and builders out there."
For more information, call a Kooks Headers and Exhaust representative at 866-586-5665 or visit kooksheaders.com.