News
Custer Products Debuts Build-A-Bar LED Light Bars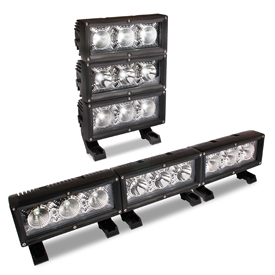 Custer Products has revealed its Build-A-Bar LED Light Bars.
Build-A-Bar enables users to build a custom lighting system using 7-inch long interlocking lamp units, which can be attached side-to-side or top to bottom.
Lamps can be interlocked to any length or height, and are available in flood light or spot light beam patterns, according to Custer Products.
Lamp units utilize long-life, 30-watt CREE light-emitting diodes (LEDs) to achieve bright beam patterns, and minimize energy use. Each lamp unit produces 3,000 lumens. To ensure high performance and reliability during extreme use, Build-A-Bar LED Light Bars feature die cast aluminum housings, high-impact polycarbonate lenses, and are certified IP-67 for water and dust intrusion. Lighting systems include stainless steel mounts, and connecting hardware.