News
CURT Introduces New Highly Secure Tray-Style Bike Racks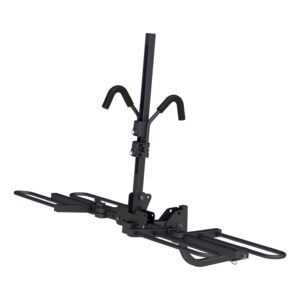 CURT has released two new tray-style bike racks as well as an accessory for the tray-style bike rack line. These items bring a new level of security and versatility to an already highly functional design, according to the company.
The #18085 and #18087 models are two new tray-style bike racks from CURT. They feature the same adjustable cradle system as our other tray-style bike racks to hold a wide variety of bikes, as well as the same ergonomic design for easy loading and unloading of bikes, according to the company. However, these two new bike rack models boast an additional feature: ratcheting arms.
The ratcheting vertical arms provide maximum security for bikes during travel, according to CURT. The ratchets keep the arms locked down on the bike frames, keeping them safe and secure over bumps, curves and even rough roads. The ratcheting mechanisms are also key-operated, deterring theft and tampering while your bikes are left unattended.
These new bike racks also feature padded arms to prevent damage to the bike frames. They are available in two capacities: #18085 to hold up to two bikes and #18087 to hold four bikes.
The all-new tray-style bike rack cradles for fat tires #18091 make the CURT tray-style bike rack even more versatile, allowing it to hold a wider variety of bikes, according to the company. They feature an inside width of 4-7/8 inches and an inside length of 17 inches. The cradles are designed to hold the fatter tires and work in conjunction with the padded vertical arm to keep the bike fully secure without marring its finish. The cradles feature durable powder-coated steel construction for strength and long-lasting rust resistance.
CURT fat-tire bike rack cradles fit all CURT tray-style bike racks, including the company's two new ratcheting models. They mount into place using the included threaded knobs, and sold in pairs to hold one bike per pair.