News
CrimeStopper Debuts Installer-Friendly Universal Camera Mounts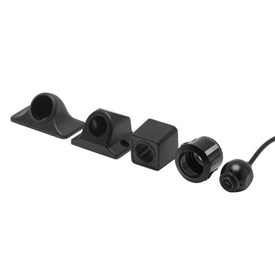 CrimeStopper has launched two new universal cameras and two new premium full-frame license plate frames during last week's SEMA Show. The company offers 12-Volt aftermarket electronics specializing in vehicle security, remote start systems, and safety products. The new mounts are available next month.
"CrimeStopper prides itself on solutions for installers by installers," said Alvin Klement, national sales manager for CrimeStopper. "First and foremost is the CAM modular camera series. We are announcing two new cameras in this series, the standard definition CAM-300 and the high definition CAM-400, which both have five options for mounting solutions included inside the box. This is the first time you only need one camera to stock for all your installation needs."
CAM-300 & CAM-400 features include:
160-degree viewing angle (CAM-300)
170-degree Viewing Angle (CAM-400)
Waterproof rating: IP67
Four different mounts (to make 5 mounting options) included
Ultra low LUX
Selectable parking line (ON or OFF)
Selectable image (front or rear mounting)
"To complement our new best in class CAM series modular camera system, we are also providing two new premium full frame license plate frames (Chrome and black) and a hidden bracket frame to mount behind the license plate," Klement added. "All three of which mount to any camera in the CAM series, and will be shipping in November 2017. Our advantage is less inventory to stock as well as overall inventory cost. And, more products to complement this series will be announced in January."
For more information, visit www.crimestopper.com.